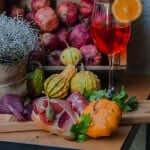 PRIVATE  TREVISO FOOD TOUR
minimum 2 hrs
If you are not interested in history and architecture, if you already know everything about Treviso, this tour is tailored just for you. You will spend the whole tour with a food&drink expert and you will eat and drink, treat and indulge yourself all the time, without taking care about history, arts and what else.
Just think if you are more in a salty or sweaty mood, or if you want to start with a wine or with a sandwich.. you will have at your disposal barely everything, but most of all, local delights. Please, think a little bit about Gelato and Cappuccino, or Pizza and beer, and then after a little stroll we will pause again and this time we can go for Prosecco and cicchetti or Tiramisu and espresso… but… ok, we understood… you want to try everything!!! Don't worry, at least 5 stops in this tour, so you have plenty of time to taste almost the best things in Treviso. We dare you and your stomach.
Duration; 3 hours ( or more)
Tastings: min 5 stops in 3 hours, more if longer.
(tastings on your choice, not included in the price of the tour)
Meeting Point: Hotel/Airport/Train Station or other, according to your needs.